Eagan TV Video with Rep. Sandra Masin
Posted on 30 October 2014

Eagan TV (ETV) posted this excellent video with Rep. Sandra Masin - Please watch.
Video by Sandy Masin
Posted on 26 October 2014
See a summary of what was accomplished in the past 2 years - and listen to what Sandy plans to move forward to make Minnesota an even better place to live in!

Doorknocking with DFL House Leadership
Posted on 20 October 2014
Rep. Sandy Masin released this announcement earlier this afternoon:
We are extremly pleased that Speaker Paul Thissen will be here tomorrow to help us door knock. I hope you will come and join.

This afternoon, Majority Leader Erin Murphy is helping us. We are very fortunate to have such great and enthusiastic leadership!

Sandy Masin

| | |
| --- | --- |
| DFL Majority Leader, Rep. Erin Murphy | Minnesota House Speaker, Rep. Paul Thissen |


 
Details:
Tuesday, October 21, at 12:00 noon
Meet at the Eagan DFL office
4555 Erin Drive Eagan, MN
Contact Marco Lanz for more details
email - marco@dflhouse.com or
call - 612-237-1007
Minnesota Voters for Animal Protection Support Masin
Posted on 10 October 2014
Rep. Masin shares this announcement:
I am delighted to receive the endorsement of Minnesota Voters for Animal Protection.

The mission of this organization is to prevent animal cruelty and suffering. A laudable goal.

I appreciate your support!

Sandy
We are so delighted with their endorsement! Thank you. 
Emily's List joins in endorsing Sandy Masin
Posted on 2 October 2014
Sandy Masin released this announcement:
I am extremely honored and delighted to receive the endorsement of EMILY's List.

EMILY's List is the nation's largest resource for women in politics. They understand the positive impact women officials have on women's issues and families.

I appreciate your efforts to help women and I am grateful for your support.

Sandy
Emily's List joins a long list of organizations who are standing behind Sandy Masin's candidacy for House District 51A. 
More Endorsements! United Food and Commercial Workers Local 1189
Posted on 19 September 2014
Rep. Masin released the following statement:
I am extremely pleased to have the support of the United Food & Commercial Workers, Local 1189. This organization has over 10,000 members who work in the retail, health care, meat packing, manufacturing and food processing industries.

Their confidence in me to help workers means a lot!

Sandy
What a pleaseure to add this group to the list of endorsements!
TakeAction Minnesota endorses Masin!
Posted on 16 September 2014
This is a note from Rep. Masin:
I am delighted to have the endorsement of TakeAction Minnesota. The members of this organization do great work in advocating for health care access for all, for a fair economy, and other areas to help everyone achieve their potential.

I am very grateful for all the work they do and for their support.

Sandy
Minnesota Farmers support Masin
Posted on 23 August 2014
Rep. Masin just received the endorsement of the Minnesota Farmers Union. Masin released this statement:
I am honored to received the endorsement of the Minnesota Farmers Union Political Action Committee.

Farm families, rural communities and agriculture are extremely important to the success and economic stability of Minnesota. I appreciate your support and confidence in me.

Thank you,
Sandy
A Special THANK YOU to ALL!
Posted on 15 August 2014
Thank you to all who made our Primary Election a success: the voters, the judges, and the campaign workers. I want to especially express my gratitude to everyone who helped with my campaign, there are so-so many of you I cannot list each of you separately. But know that your contributions and your efforts mean so much! This involvement is important to maintaining our form of democratic government and our freedom. Thank you again!

We are focusing now on General Election Day on November 4, 2014. We can use all the help you can provide, from financial contributions, volunteer time, displaying yard signs (see below, our new sign), displaying bumper stickers, parading with us, phonecalling, hosting meet-and-greet events, and more. Please click this link for more information.

Please remember to VOTE on that day. If you wish, you can now vote using the Absentee Ballot process. These ballots are available starting September 19, 2014 from the Secretary of State. See information here. If you are not registered to vote, check out the links in the red box on the right side of this page for more information.

We are quite pleased with our new sign:

SEIU now endorsing Rep. S. Masin
Posted on 14 August 2014
I am excited to announce that I have received the endorsement of the SEIU MN State Council.

Members of the SERVICE EMPLOYEES INTERNATIONAL UNION work in hospitals, nursing homes, schools, early childhood, in-home care, and some of the Twin Cities' largest public and private buildings. This organization is a leader in efforts to improve conditions for working families.

I am very grateful and privileged to have their support.

Sandy

A Very Special Gift!
Posted on 13 August 2014
Sandy Masin shares this note:
At a recent fundraising event for Congressional District 2, one of the auctioned items was 36 hours of volunteering on November 1. After spirited bidding, Angie Craig, a resident our District 51A, was the winning bidder. She graciously donated the volunteers to my campaign.

Thank you so much, Angela!

Definitely made my day, and week, too!

Sandy
United Transportation Union is Endorsing Masin
Posted on 9 August 2014
From Sandy Masin:
I am so pleased to receive the endorsement from the United Transportation Union, the Transportation Division of the newly merged Sheet Metal, Air, Rail, and Transit Union, (UTU-SMART-TD) Minnesota Legislative Board.

The men and women of this organization work round the clock, three hundred and sixty five days a year to keep our regional economy moving.

I love their guiding principle - Let no one diminish the Dignity of Labor.

Many thanks for all the work you do and for your support,

Sandy
A very special adventure!
Posted on 4 August 2014
Rep. Masin posted a lovely blog entry here about her encounter with the Minnesota Civil Air Patrol. Enjoy! (Pictures, too!)

(BTW, Sandy Masin holds the rank of Major in the CAP.)
Saint Paul Building and Construction Trades Council Endorses Rep. Masin
Posted on 3 August 2014
Rep. Masin released this announcement about an additional valuable endorsement received for he candidacy for the House:The Saint Paul Building and Construction Trades Council let me know of their endorsement of my candidacy for the House of Representatives. Part of their mission is to promote and develop safe practices in the construction industry.

I am very grateful to this organization and I appreciate all the work done by members of this organization, their support of me and their confidence in me. Thank you!
The International Brotherhood Of Electrical Workers (IBEW) Endorses Rep. Masin
Posted on 28 July 2014
Rep. Sandy Masin announces a new Endorsement:
It is with great pleasure that I can announce that the International Brotherhood Of Electrical Workers (IBEW) has endorsed my candidacy.

The IBEW has a fascinating history on its website. It is "the oldest, as well as the largest, electrical union in the world. In the beginning, the work was hard, the hours long, and the pay was small. There was no apprenticeship and no safety standards. In some areas, the mortality rate was one out of every two hired." The solution to address these issues was determined to a national organization.

I appreciate their confidence in me to support working family issues.

Sandy
Planned Parenthood Endorses Sandra Masin
Posted on 25 July 2014
Sandra Masin released the following announcement today:
I am extremely pleased to have the endorsement of Planned Parenthood Minnesota, North Dakota, South Dakota.

Planned Parenthood provides services to 67,000 women and men annually. Outside of their health centers, education outreach programs reach more than 34,000 teens and adults through medically accurate, culturally specific curriculum.

Thanks,

Sandy
Great news!
Minnesota AFL-CIO Endorses Masin
Posted on 15 July 2014
Rep. Masin released the following announcement:
I am very proud to have received the endorsement from the Minnesota AFL-CIO Committee on Political Education (COPE).
 
The mission of the Minnesota AFL-CIO is "to improve the lives of working families-to bring justice to the workplace and social justice to the state and the nation."

I am very grateful for this important endorsement.

Sandra Masin
AFSCME Council 5 Endorses Masin
Posted on 20 June 2014
Rep. Masin released this communication:
I am very proud to announce that I have been endorsed by AFSCME Council 5, an organization that represents 43,000 workers in the public service sector. It covers a host of occupations, including nurses, correction officers, and child care workers. These are the people that provide the services to help our families and keep our community strong.

Sandy Masin
Education Minnesota Endorses Rep. Sandy Masin
Posted on 12 June 2014
The Endorsements for Rep. Masin are beginning to come in from all over! Today, Rep. Masin released the following announcement:
I am very pleased to announce that our campaign has been endorsed by Education Minnesota.

We rely on the people in this organization to teach and train our students. A strong education system is vital to the future of our youngest citizens and a well-educated workforce is essential to a strong economy.

Education is a top priority!

Thank you!!!
Sandy Masin

Minnesota Nurses Association Endorses Rep. Masin
Posted on 10 June 2014
Rep. Masin released the following announcement today:
I am extremely proud to receive the endorsement of the Minnesota Nurses Association.

This organization has over 20,000 members and they are critically important to our health care system.

They provide the care we need when we have health issues.


Thank you, 
Sandy
End of 2013-2014 Legislative Session: What Was Accomplished
Posted on 17 May 2014
The House wrapped up the 2013-2014 Legislative Session on Friday 16 May, 2014. For the first time in a decade the session actually ended early.

This biennium (2-year session) was extraordinarily productive. The budgets which were passed were balanced, Minnesotans will experience tax relief in various forms (in the form of tax cuts to low- and middle-income Minnesotans and in refunds of property taxes, as well as renter's credits.) More than 320,000 Minnesotans will receive a wage increase over the next two years as the minimum wage hike takes effect in stages to reach $9.50 per hour in 2016.

Our schools budgets, decimated by the previous administration, have now been restored although much remains to be done to make up for the many years of neglect.

The new budgets and allocations are in areas that invest in the infrastructure of the state and the human capital of the state. Long Term care caregivers to seniors and disabled persons will receive long-deserved wage raises, job creation and broadband in Greater Minnesota, higher education, education from pre-K to higher education will see more financial allocations, and even potholes in the state which damage cars and impede on smooth transportation received attention and financial allocations. And the budget is balanced!

Of great significance is the passage of Women's Economic Security Act (WESA). This act closes the gaps in wages between genders, provides increased workplace protections, flexibility in employment to pregnant mothers, and expands job opportunities for women in higher-wages jobs.

The last session built on several other significant achievements in 2013: Funding all day kindergarten care for all Minnesota families, and the passage of marriage equality.

There is a lot to be proud and please be assured that none of this would have taken place without your steadfast support, encouragement and communications with your legislators - telling them what you as citizens of the State of Minnesota want to happen!

If you like to know more specific information about specific items, please do not hesitate to call my office at 651/296-3533, or email me at Rep.Sandra.Masin@house.mn

Thank you all!

Rep. Sandy Masin
House District 51A
Women's Economic Security Act (WESA) Passes
Posted on 12 May 2014
So much has been going on in the Legislature, culminating months or arduous work and preparation, discussions, and consultations with experts, legislators, and foremost - Voters like you, the reader!

The Women's Economic Security Act (WESA) passes: This is major piece of legislation encompassing various laws that deal with employment fairness, wage fairness, opportunities and wide investments in the future of the State of Minnesota. Rep. Masin was the lead author on the legislative part that dealt with elimination of retaliation against employees who voluntarily discuss their salaries and increase of transparency in the area of wages paid at the workplace.

Gov. Dayton signed this legislation at a festive ceremony in the Governor's Reception Room in the Minnesota State Capitol. The room was filled with legislators, advocates, and their families.

"The Act will provides access to higher wages jobs, wage disclosure protections, pregnancy and nursing accommodations, ensure that women have opportunities to increase their economic security, and more. It tries to address some of the issues that have prevented many women in Minnesota from gaining an economic foothold and helps provide a pathway to prosperity. This is long overdue!"

Patricia Tanji, an Eagan resident and the president of Pay Equity Coalition of MN worked on this Act and its components tirelessly! Senator Sandy Pappas was another important contributor and person to help this act become a reality!


Patty Tanji and Rep. Masin at the signing ceremony
Sen. Pappas, Rep. Masin, and Patty Tanji
Patty, daughter Laura and Rep. Masin 
Women's Economic Security Act
Posted on 30 March 2014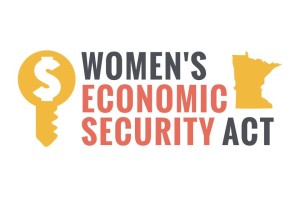 Last week, the House Jobs and Economic Development Finance and Policy Committee approved a bill (HF 2274) authored by State Representative Sandra Masin (DFL-Eagan). The bill became one of seven parts(*) of the Women's Economic Security Act (HF 2536) carried by Rep. Carly Melin.

Masin's bill bars discrimination or retaliation against any employee who discusses salaries and wages with fellow employees. All too often, a worker is threatened by an employer or fired for participating in a discussion about wages in the workplace. It is the law of the land that employees receive equal pay for equal work, but if they do not have information about the comparable wages, they have no way to secure their rights.

With more and more women in the workplace, the University of Minnesota Humphrey School's Center on Women & Public Policy study found that families headed by women are four times more likely to live in poverty. Moreover, the median pay of women is only 80% of the median pay of men.

Clearly, having more information about the pay at the workplace will go a long way in securing equal rights for women in the workplace in the area of payscales. Said Rep. Masin:
"These bills [Women's Economic Security Act] are designed to make sure all workers have equal rights and opportunities in the work place, [..] More and more households are depending on women to support them financially, and now is the time to address the barriers that are still in place for those women."
Rep. Masin
wrote in her blog
:
The Women's Economic Security Act builds on Minnesota's positive economic momentum by ensuring equal opportunities for women to succeed in the workplace and provide for their families. Members of the public, small business owners, and religious organizations testified in support of the bill at today's hearing.
(*)
In addition to the main bill by Rep. Carly Melin, the other 5 components of the legislation heard during last week's committee hearing were:
Rep. Yvonne Selcer: Author of HF 2243 (Women entrepreneurs business development grant program created, and money appropriated).
Rep. Barb Yarusso: Author of HF 2259 (Nursing mothers; unfair employment practices clarified).
Rep. Will Morgan: Author of HF 2291 (Women's economic self-sufficiency promoted; gender segregation in the workforce reduced; gender pay gap reduced through the participation of women in high-wage, high-demand, nontraditional occupations; women and nontraditional jobs grant program established; and money appropriated).
Rep. Paul Rosenthal: Author of HF 2366 (Unemployment benefits eligibility modified when applicant is a victim of sexual assault or stalking).
Rep. Phyllis Kahn: Author of HF 2371 (Pregnancy and parenting leave provided, and pregnancy accommodations required).
Tax Relief to more than 1 Million Minnesotans
Posted on 26 March 2014
Dear Neighbors and Friends,
Last week, the House continued their quick pace by passing a bill to offer tax relief for more than a million middle class Minnesotans. Governor Dayton signed it into law just a few hours later.
Much of the tax relief offered in this bill will come through conforming the state tax code to the federal tax code. It helps makes the process simpler for those filing taxes and for those who process them. But because this change took place during tax season, I'm sure you may have questions about how this bill will impact your 2013 tax return.
What benefits were added for the 2013 returns?
1. Working Family Credit
2. Mortgage Insurance Deduction
3. Mortgage Debt Forgiveness
4. Deduction for Educator Expenses
5. Higher Education Tuition Deduction
6. Student Loan Interest Deduction
7. Education Savings Accounts
8. National Health Corps Scholarships
9. Employer-Provided: Education, Adoption, Transit
10. Tax-Free Charitable IRA Distributions
The bill provides $49 million in tax relief for 2013 through these ten deductions and credits. If you aren't sure whether you qualify for one or more of these tax benefits, follow the link
HERE
to see more details.
What should I do with my tax return?
Once you know whether you qualify for these benefits or not, use this simple chart to help determine what you need to do next.
If you qualify for one of the benefits listed above AND you haven't filed your tax return yet, the Department of Revenue is asking that you wait until April 3rd to file your return.
At that point, all of the necessary changes will have been made to the software that is used to process state returns.
What will happen after I file my return?
You won't need to do anything right way. If you've already filed, or if an amended tax return is needed, the Department of Revenue will contact you by mail sometime after April 15.
What if I have more questions?
More information is available at the Department of Revenue website (
HERE
). If you still have questions, please don't hesitate to contact me by phone (651-296-3533) or email (
rep.sandra.masin@house.mn
). I'm always happy to help with any issues you might have.
Rep. Sandra Masin
Endorsements by womenwinning and MAPE
Posted on 4 February 2014
I am extremely pleased to announce that Team MAPE and womenwinning have given their support to our campaign. It is a privilege to have the endorsement of these organizations.

Sandra Masin