Minnesota AFL-CIO Endorses Masin
Rep. Masin released the following announcement:
I am very proud to have received the endorsement from the Minnesota AFL-CIO Committee on Political Education (COPE).
 
The mission of the Minnesota AFL-CIO is "to improve the lives of working families-to bring justice to the workplace and social justice to the state and the nation."

I am very grateful for this important endorsement.

Sandra Masin
Legislative Report by Rep. Sandra Masin - July 10, 2014
Dear Neighbors,
Minnesota has taken an important step toward securing substantial resources to strengthen our ongoing disaster relief and recovery efforts after last month's severe storms and flooding.
Governor Dayton on Wednesday requested a Presidential Disaster Declaration covering 51 total counties, including Dakota County.
In order to receive financial assistance from the federal government, damages from a natural disaster must meet a $7.3 million threshold. With $10.8 million in eligible damages documented through preliminary assessments to date and another $55 million in response costs and damages to uninsured public infrastructure reported by local governments, there is little doubt we can expect to receive significant aid from the Federal Emergency Management Agency (FEMA) – something that President Obama underscored during his recent visit to Minnesota.
If granted by the President, the disaster declaration would provide assistance to townships, cities, counties, schools and certain private not-for-profit organizations for uninsured and eligible storm-related damage to public infrastructure.
Examples of eligible expenses include:
Debris Removal
Emergency Protective Services
Repair or replacement of storm-damaged:


Roads and Bridges
Water control facilities
Buildings and equipment
Municipal utilities
Parks and recreational facilities
If the President declares a major disaster, FEMA would fund three-quarters of the approved costs, with Minnesota covering the remaining quarter of the non-federal share.
Governor Dayton also requested federal funding for the Hazard Mitigation Grant Program. All counties in the state would be eligible to apply for assistance under this program which provides funding to state and local governments and certain private not-for-profit organizations to prevent or reduce long-term risk to life and property from natural hazards.
Federal and state aid typically only covers costs to repair and replace uninsured public infrastructure, but financial assistance may still be possible for homeowners, renters and business owners from the U.S. Small Business Administration (SBA). More information about SBA disaster loans is available online at www.sba.gov, by email at
disastercustomerservice@sba.gov
or by phone at 800-659-2955.
Please do not hesitate to contact me if there is anything I can do to be of help during this time of tremendous need.
Sincerely,
Sandy 
THANK YOU ALL!
July 4th was a perfect day for a parade and it was great seeing so many people out to enjoy it.
I want to especially thank all our parade participants for their efforts. We had a fun unit and received a lot of positive comments.
The Blackbird Quadribent bikes we used also attracted a lot of attention and that is particularly gratifying because the design engineer, Jim Black, resides in our district. 
Many thanks to all for making our July 4 Celebration so special.
Sandy Masin 
Eagan 4th of July Parade - Info
Dear Neighbors and Friends,
4th of July Parade in Eagan is marching TOMORROW!
Many of you already received the information below.
The Masin Campaign Line up number is 76.
Line up will be between Hwy 13 and Blue Cross Drive on Yankee Doodle Rd. Line up starts at 8:45 am and the
Parade will start promptly at 10:00 am.
The Parade Route follows Yankee Doodle east to Federal Drive. Left turn on to Central Parkway and ends after some distance in the parking lot of Lockheed Martin. (see below)

Click for a large image
Access to the Line up Area: if you are coming from Cedar or 77, take Hwy 13, go north to Blackhawk Rd, turn right on Blackhawk Rd and go to Blue Cross Rd. You a can only go left on Blue Cross Rd., and it goes to Yankee Doodle where the Line up are is.
If you use 35E, use Diffley Rd. exit. Going north on 35E, get off at Diffley and turn left onto Diffley, then proceed to Backhawk Rd. If you are coming south on 35E get off at Diffley, and turn right onto Diffley then proceed to Blackhawk Dr. Stay on Blackhawk to Blue Cross Drive on the right, Turn right and proceed to Yankee Doodle where the Line up area is. From 35E to the Line up are is 2.5 miles.
If you use Hwy 13, be advised that Yankee Doodle WILL BE CLOSED at Hwy 13, so go to Blackhawk Rd. which is one block south of Yankee Doodle. Coming from Yankee Doodle on 13, turn left onto Blackhawk. Coming from the south on Hwy 13, turn right onto Blackhawk Dr. Proceed to Blue Cross Drive, turn left onto Blue Cross Dr and go to Yankee Doodle where the line area is.
Parking at the Line Up Area: Use the Blue Cross parking lot.
Parking at the End of the Parade: You must be parked at the dispersal area BEFORE the Parade begins! (Or get into the area after the Parade ends.) The FunFest Committee will have parking set aside at the Lockheed Martin for people who need to go from the Eagan Parade to other parades.
Keep The Pace: The Parade route is not strenuous, and the Parader units are expected to keep pace! They point out that we lose audience where there are gaps between units.
If you wish to just view the Parade and not march - go for it - you now know the route and the times and how to get there! Rep. Masin will be riding one of these bikes - see below! It is a
Blackbird Quadribent
bike.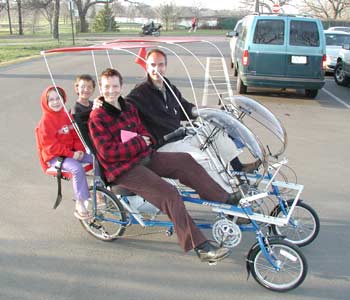 This family-friendly side-by-side bike is made in Burnsville (
in our OWN district!
by design engineer Jim Black. This stable, comfortable bike allows 2 or more people, even those with physical challenges, to ride, and it even has room for Blackbird Bikes Spokesdog Charlie Brown!
... No that is NOT Sandy Masin in the picture :-), but come to the Parade tomorrow and you'll be able to see Rep. Masin ride on of these great bikes.
UPDATE!
Rep. Masin and Jim Black went on a test ride and here is a picture from that occasion!
Bring a Hat - Protect yourself from Sun Exposure: You know best your sensitivity - take care of yourself and have fun!
The Fun after the Fun: DFLers will have a picnic at the Pavillion just north of the Community Center immediately following the Parade. Masin folks are bringing side dishes (but please feel free to just come and eat if it's too much to bring a dish to pass around AND march in the Parade - there is always PLENTY of food!!)
Come and Enjoy!!!
Sincerely,
Sandra Masin 
AFSCME Council 5 Endorses Masin
Rep. Masin released this communication:
I am very proud to announce that I have been endorsed by AFSCME Council 5, an organization that represents 43,000 workers in the public service sector. It covers a host of occupations, including nurses, correction officers, and child care workers. These are the people that provide the services to help our families and keep our community strong.

Sandy Masin
Education Minnesota Endorses Rep. Sandy Masin
The Endorsements for Rep. Masin are beginning to come in from all over! Today, Rep. Masin released the following announcement:
I am very pleased to announce that our campaign has been endorsed by Education Minnesota.

We rely on the people in this organization to teach and train our students. A strong education system is vital to the future of our youngest citizens and a well-educated workforce is essential to a strong economy.

Education is a top priority!

Thank you!!!
Sandy Masin

Minnesota Nurses Association Endorses Rep. Masin
Rep. Masin released the following announcement today:
I am extremely proud to receive the endorsement of the Minnesota Nurses Association.

This organization has over 20,000 members and they are critically important to our health care system.

They provide the care we need when we have health issues.


Thank you, 
Sandy
Burnsville and Eagan Memorial Day Ceremonies
Rep. Masin posted this message today:
Burnsville held their Memorial Day Program in Bi-Centennial Park. It is a lovely setting and a lovely morning for this observance. Program participants included Greg Sylvester playing the bugle, Carol Oeltjenbruns as moderator, Boy Scout Troop 336, the South Metro Chorale, Blue Star Mom Lori Challans, and Mayor Elizabeth Kautz. The event has been sponsored by the Sweet Sioux Garden Club for the past eleven years.
The City of Eagan held its Memorial Day ceremony at Eagan Central Park in the afternoon of Memorial Day. Tribute Plaza in Eagan is a very special place to meomrialize the fallen heroes. At the ceremony, the speaker was Reverend Al Pruis, Pastor of Peace Church of Eagan and a Vietnam Vet.
End of 2013-2014 Legislative Session: What Was Accomplished
The House wrapped up the 2013-2014 Legislative Session on Friday 16 May, 2014. For the first time in a decade the session actually ended early.
This biennium (2-year session) was extraordinarily productive. The budgets which were passed were balanced, Minnesotans will experience tax relief in various forms (in the form of tax cuts to low- and middle-income Minnesotans and in refunds of property taxes, as well as renter's credits.) More than 320,000 Minnesotans will receive a wage increase over the next two years as the minimum wage hike takes effect in stages to reach $9.50 per hour in 2016.
Our schools budgets, decimated by the previous administration, have now been restored although much remains to be done to make up for the many years of neglect.
The new budgets and allocations are in areas that invest in the infrastructure of the state and the human capital of the state. Long Term care caregivers to seniors and disabled persons will receive long-deserved wage raises, job creation and broadband in Greater Minnesota, higher education, education from pre-K to higher education will see more financial allocations, and even potholes in the state which damage cars and impede on smooth transportation received attention and financial allocations. And the budget is balanced!
Of great significance is the passage of Women's Economic Security Act (WESA). This act closes the gaps in wages between genders, provides increased workplace protections, flexibility in employment to pregnant mothers, and expands job opportunities for women in higher-wages jobs.
The last session built on several other significant achievements in 2013: Funding all day kindergarten care for all Minnesota families, and the passage of marriage equality.
There is a lot to be proud and please be assured that none of this would have taken place
without your steadfast support, encouragement and communications
with your legislators - telling them what you as citizens of the State of Minnesota want to happen!
If you like to know more specific information about specific items, please do not hesitate to call my office at 651/296-3533, or email me at
Rep.Sandra.Masin@house.mn
Thank you all!
Rep. Sandy Masin
House District 51A 
Women's Economic Security Act (WESA) Passes
So much has been going on in the Legislature, culminating months or arduous work and preparation, discussions, and consultations with experts, legislators, and foremost - Voters like you, the reader!
The Women's Economic Security Act (WESA) passes:
This is major piece of legislation encompassing various laws that deal with employment fairness, wage fairness, opportunities and wide investments in the future of the State of Minnesota. Rep. Masin was the lead author on the legislative part that dealt with elimination of retaliation against employees who voluntarily discuss their salaries and increase of transparency in the area of wages paid at the workplace.
Gov. Dayton signed this legislation at a festive ceremony in the Governor's Reception Room in the Minnesota State Capitol. The room was filled with legislators, advocates, and their families.
"The Act will provides access to higher wages jobs, wage disclosure protections, pregnancy and nursing accommodations, ensure that women have opportunities to increase their economic security, and more. It tries to address some of the issues that have prevented many women in Minnesota from gaining an economic foothold and helps provide a pathway to prosperity. This is long overdue!"
Patricia Tanji, an Eagan resident and the president of Pay Equity Coalition of MN worked on this Act and its components tirelessly! Senator Sandy Pappas was another important contributor and person to help this act become a reality!
Patty Tanji and Rep. Masin at the signing ceremony
Sen. Pappas, Rep. Masin, and Patty Tanji
Patty, daughter Laura and Rep. Masin 
Legislative Update - April 23, 2014
Dear Neighbors and Friends,
We've returned from the Easter/Passover break to continue our work this session. Already the House has made progress on several priorities we were hoping to address. Just a couple months into session, we've already passed bills that will provide:
$20 million in propane heating assistance
$3.4 million to ensure that students get a healthy meal at lunchtime
Over $440 million in tax cuts for families, businesses, and farmers
Updated workplace regulations that help address pay disparities for female workers
An increased minimum wage for workers with protections for small businesses and those who hired teenagers.
Expanding Broadband Internet Access
The House has also passed a supplemental budget that includes a $25 million investment in broadband development. A recent study by
ConnectMN
, a nonprofit working in partnership with the Minnesota Department of Employment and Economic Development, showed that 93 percent of Metro-area residents have access to high-speed broadband coverage as opposed to only 46 percent of households in Greater Minnesota.
While that limited access doesn't directly hurt the families and businesses in our area, it does impact our economy. If large portions of Minnesota's communities can't create new jobs, that will slow down the economic growth of the entire state economy. It's in our best interest to make sure schools, families, and businesses have the chance to succeed no matter where they are in Minnesota.
Conference Committees Underway
This is the time when significant bills are being passed by both the House and the Senate on similar topics. When those bills don't match up perfectly, both chambers appoint members to serve on a conference committee that settles the differences. Some major issues that will be decided through the conference committee process include:
5 percent rate increase for long term care
workers (Both House and Senate agree)
Increase in property tax refunds for small businesses (In the House bill)
Increase in property tax refunds for homeowners (In the House bill)
Increase in property tax refunds for renters (In the House bill)
As the differences between the House and Senate bills get hammered out, we will inch closer and closer to completing our work this session. The last major piece of work to accomplish will be our bonding bill. The Senate is expected to release their list of local infrastructure projects sometime this week, which will give us the chance to create a final list of projects to send to the Governor to be signed into law.
Things are moving quickly in the House. We're excited to continue our progress and get done on time. If you have any questions or ideas about our work at the Legislature, please feel free to contact me by phone (651-296-3533) or email me at
rep.sandra.masin@house.mn
. 
Sandra Masin 
April 11, 2014 - Legislative Update
Dear Neighbors and Friends,
We made some significant progress this week by passing three important bills on the House floor. The
Women's Economic Security Act
contained provisions
(1)
from several bills that addressed the pay gap that still exists for female workers. I personally authored part of this bill, and many other Representatives worked to create a final package that fixes outdated state statutes. More and more families are depending on female workers to serve as their primary bread winner, but that is pretty difficult when women only make 80 cents for every dollar men make. This bill will address that pay gap and help families across Minnesota.
The House also passed a bill this week that will
increase our state's minimum wage
(2)
from its current rate of $6.15/hour and $5.50/hour for large and small businesses. Not only was that wage lower than the national rate, it was lower than our neighboring states. Increasing the rate will mean a
pay increase for 357,000 workers in Minnesota
. It will mean fewer people are relying on public assistance just to get by. That, in turn, will reduce the cost of public assistance programs for all taxpayers. To make sure the increase in wages isn't too drastic for businesses, the new wage will be phased in over several years until it reaches $9.50/hour and $7.75/hour for large and small businesses by 2016.
Lastly, we passed a bill to address the
growing problem of bullying in our schools
(3)
. This bill was put together with input from school administrators and school boards from across the state. The final bill is something which local school districts can work with. It essentially requires every school to either put their own local policy on bullying in place or use the recommended state policy. No student should have to go to school every day with the fear of being bullied. This bill will make sure our local school districts put policies in place to address that issue.
If you have any questions about the progress we made this week, please feel free to contact me. More detailed information on each of the bills I mentioned can be found below.
Sandra Masin
(1)
The key provisions of the
Women's Economic Security Act
include:
Allow mothers to stay in the workforce by expanding family leave and providing reasonable accommodations for pregnant and nursing employees and expanding access to high-quality, affordable childcare,
Decrease the gender pay gap through workforce development grants to increase the number of women in high-wage, high-demand nontraditional work,
Reduce the gender pay gap through increased enforcement of equal pay laws for state contractors and by allowing employees to discuss pay inequities.
(2)
The key provisions in
the minimum wage bill
include:
$9.50 minimum wage for large businesses in 2016. $8.00 in August 2014, $9.00 in August 2015,
$7.75 minimum wage for small businesses in 2016. $6.50 in August 2014, $7.25 in August 2015. The $7.75 minimum wage rate would also apply for all 16 and 17 year olds, the first 90 days of work for 18 and 19 year olds, and employees working under a J1 visa,
Beginning in 2018, all wages would increase each year on January 1st by inflation, but that would be capped at 2.5%. The indexed increase could be stopped at any time by the Commissioner of Labor and Industry in the case of an economic downturn.
(3)
The Safe and Supportive Minnesota Schools Act will:
Require that school districts and charter schools either craft their own policy, or adopt the state model policy, to prevent bullying, cyberbullying, intimidation and promote remedial responses,
Schools must consult with students, parents and the community in this process and must review and revise their policies in a timely manner, consistent with other state-reviewed policies.
Video Update from the Minnesota House
Please click below to see Rep. Masin's update on the work going on in the Minnesota House.  
Women's Economic Security Act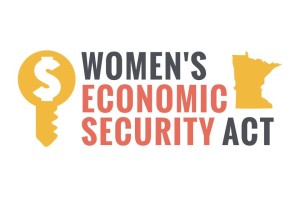 Last week, the House Jobs and Economic Development Finance and Policy Committee approved a bill (HF 2274) authored by State Representative Sandra Masin (DFL-Eagan). The bill became one of seven parts
(*)
of the Women's Economic Security Act (HF 2536) carried by Rep. Carly Melin.
Masin's bill bars discrimination or retaliation against any employee who discusses salaries and wages with fellow employees. All too often, a worker is threatened by an employer or fired for participating in a discussion about wages in the workplace. It is the law of the land that employees receive equal pay for equal work, but if they do not have information about the comparable wages, they have no way to secure their rights.
With more and more women in the workplace, the University of Minnesota Humphrey School's Center on Women & Public Policy study found that families headed by women are four times more likely to live in poverty. Moreover, the median pay of women is only 80% of the median pay of men.
Clearly, having more information about the pay at the workplace will go a long way in securing equal rights for women in the workplace in the area of payscales. Said Rep. Masin:
"These bills [Women's Economic Security Act] are designed to make sure all workers have equal rights and opportunities in the work place, [..] More and more households are depending on women to support them financially, and now is the time to address the barriers that are still in place for those women."
Rep. Masin
wrote in her blog
:
The Women's Economic Security Act builds on Minnesota's positive economic momentum by ensuring equal opportunities for women to succeed in the workplace and provide for their families. Members of the public, small business owners, and religious organizations testified in support of the bill at today's hearing.
(*)
In addition to the main bill by Rep. Carly Melin, the other 5 components of the legislation heard during last week's committee hearing were:
Rep. Yvonne Selcer: Author of HF 2243 (Women entrepreneurs business development grant program created, and money appropriated).
Rep. Barb Yarusso: Author of HF 2259 (Nursing mothers; unfair employment practices clarified).
Rep. Will Morgan: Author of HF 2291 (Women's economic self-sufficiency promoted; gender segregation in the workforce reduced; gender pay gap reduced through the participation of women in high-wage, high-demand, nontraditional occupations; women and nontraditional jobs grant program established; and money appropriated).
Rep. Paul Rosenthal: Author of HF 2366 (Unemployment benefits eligibility modified when applicant is a victim of sexual assault or stalking).
Rep. Phyllis Kahn: Author of HF 2371 (Pregnancy and parenting leave provided, and pregnancy accommodations required).
Tax Relief to more than 1 Million Minnesotans
Dear Neighbors and Friends,
Last week, the House continued their quick pace by passing a bill to offer tax relief for more than a million middle class Minnesotans. Governor Dayton signed it into law just a few hours later.
Much of the tax relief offered in this bill will come through conforming the state tax code to the federal tax code. It helps makes the process simpler for those filing taxes and for those who process them. But because this change took place during tax season, I'm sure you may have questions about how this bill will impact your 2013 tax return.
What benefits were added for the 2013 returns?
1. Working Family Credit
2. Mortgage Insurance Deduction
3. Mortgage Debt Forgiveness
4. Deduction for Educator Expenses
5. Higher Education Tuition Deduction
6. Student Loan Interest Deduction
7. Education Savings Accounts
8. National Health Corps Scholarships
9. Employer-Provided: Education, Adoption, Transit
10. Tax-Free Charitable IRA Distributions
The bill provides $49 million in tax relief for 2013 through these ten deductions and credits. If you aren't sure whether you qualify for one or more of these tax benefits, follow the link
HERE
to see more details.
What should I do with my tax return?
Once you know whether you qualify for these benefits or not, use this simple chart to help determine what you need to do next.
If you qualify for one of the benefits listed above AND you haven't filed your tax return yet, the Department of Revenue is asking that you wait until April 3rd to file your return.
At that point, all of the necessary changes will have been made to the software that is used to process state returns.
What will happen after I file my return?
You won't need to do anything right way. If you've already filed, or if an amended tax return is needed, the Department of Revenue will contact you by mail sometime after April 15.
What if I have more questions?
More information is available at the Department of Revenue website (
HERE
). If you still have questions, please don't hesitate to contact me by phone (651-296-3533) or email (
rep.sandra.masin@house.mn
). I'm always happy to help with any issues you might have.
Rep. Sandra Masin
THANK YOU!
I want to extend my appreciation to everyone who participated in the DFL Senate District 51 Convention on Saturday. Thank you for taking the time to help make our community better and our state better.
We have our new organization in place and are ready to move forward.
I especially want to extend my gratitude to the delegates from 51A for their endorsement and for their confidence in me. I am looking forward to working on behalf of an agenda that continues Minnesota's economic progress and a better quality of life for all.
Sincerely,
Sandra Masin
Passing a Bill - "Stayin' Alive"
Posted on 26 February 2014
The 2014 Legislative Session began yesterday. There are several important bills coming up. The workflow is described below along with relevant deadlines. The key dates for this session are:
March 21:
1st Committee - a House bill must be approved by a committee in the House and a Senate bill must be approved by a Senate committee in order to continue deliberations on it (in other words, for the bill to
"stay alive"
).
If the bill remains alive, it goes to the other house.
March 28:
2nd Committee - a House bill must be approved by a Senate Committee and a Senate bill must be approved by a House committee to remain alive.
If the bill appropriates money, it goes to the respective House Ways and Means Committee, or to the Senate Finance Committee.
April 4:
3rd Committee - approval by the House Ways and Means or the Senate Finance must be secured for the bill to remain alive.
April 10-22:
Easter/Passover recess.
May 19:
Legislature must adjourn by Minnesota's Constitution. The legislature may adjourn earlier, if the work is completed.
If you are interested in tracking a bill in the House or Senate, this link is a good start: 
http://www.leg.state.mn.us/leg/legis.aspx
Endorsements by womenwinning and MAPE
Posted on 4 February 2014
I am extremely pleased to announce that Team MAPE and women
winning
have given their support to our campaign. It is a privilege to have the endorsement of these organizations.
Sandra Masin 
Previous Articles: [click on the desired article to view it]
| | |
| --- | --- |
| 02-14-2014 | Communications Conference in St. Paul |
| 02-08-2014 | It's Time to Make Transportation a Priority |
| 01-30-2014 | Please Make Sure to Attend the PRECINCT CAUCUS February 4, 2014 6:30pm |
| 12-24-2013 | Holiday Greetings |
| 12-12-2013 | SunThisWeek Interviews Masin |
| 12-12-2013 | Legislative Update: Strong Economy Means Schools Are Paid Back |
| 11-11-2013 | Veteran's Day Celebration Today |
| 11-08-2013 | Workforce Centers Information |
| 10-08-2013 | Concert and and Fundraising Event for Rep. Sandra Masin |
| 10-07-2013 | High School Pages and College Interns |
| 09-30-2013 | Rep. Sandra Masin: Government Shutdown is Completely Unnecessary |
| 09-12-2013 | Burnsville Firemuster Events and Parade |
| 09-09-2013 | Minnesota Legislature meets in special session to approve disaster relief |
| 09-04-2013 | The Voice of the People... |
| 09-03-2013 | Help for Hail and Storm Damage - Update from Rep. Sandra Masin |
| 08-23-2013 | Legislative Update - 8-22-2013 |
| 08-11-2013 | MNSURE News |
| 08-07-2013 | Legislative Update from Rep. Sandy Masin - 7 August 2013 |
| 08-02-2013 | Town Hall Meeting - Meet-n-Greet |
| 07-17-2013 | Legislative Update: Town Hall Meeting July 20, 2013 |
| 07-13-2013 | Masin Interview on Access to Democracy |
| 07-11-2013 | Thank you ALL for Eagan FUNFEST and 4th July Parade |
| 07-03-2013 | New Laws Going Into Effect July 1, 2013 |
| 06-22-2013 | The RED Line Opens Today |
| 05-20-2013 | Last Day in Session - May 20, 2013 |
| 05-15-2013 | A Budget Issues Update from the Capitol |
| 05-10-2013 | Letter to the Editor: Standing up for victims, wages |
| 05-09-2013 | MINNESOTA HOUSE PASSES MARRIAGE EQUALITY FOR ALL MINNESOTANS |
| 04-25-2013 | Rep. Sandra Masin - E-update April 25, 2013 |
| 04-11-2013 | Legislative E-update April 11, 2013 |
| 03-22-2013 | Legislative E-update March 22, 2013 |
| 03-13-2013 | Rep. Sandra Masin - Video Update March 13, 2013 |
| 02-28-2013 | Rep. Masin Video Update - Feb 28, 2013 |
| 02-24-2013 | Thank You for Attending the Town Hall Meeting Saturday 23 February |
| 02-23-2013 | Town Hall Meeting with your Local Legislators |
| 02-18-2013 | Legislative Update - February 18, 2013 |
| 02-16-2013 | Metcalf Junior High School Chess Team |
| 01-31-2013 | Legislative Update - January 31, 2013 |
| 01-26-2013 | Townhall Meeting in Burnsville 1/26/2013 |
| 01-11-2013 | Legislative Update - January 11, 2013 |
| 01-08-2013 | 88th House Session Opens Today |
| 12-31-2012 | Happy New Year 2013 |
| 12-14-2012 | Representative Masin Committee Assignments |
| 11-07-2012 | Sandra Masin Returns to the Minnesota House to Represent House District 51A |
| 11-06-2012 | Sandra Masin is returning to the Minnesota House! |
| 11-04-2012 | The Most Important Endorsement |
| 10-21-2012 | Pioneer Press Editorial about District 51 Burnsville/Eagan |
| 10-20-2012 | Sandra Masin televised message on Eagan TV |
| 10-18-2012 | Burnsville-Eagan Candidates Forum on Education |
| 10-15-2012 | NARAL endorses Masin for 2012 |
| 09-28-2012 | Eagan Patch Report on the Chamber Candidate Forum |
| 09-26-2012 | Masin receives TakeAction Minnesota Endorsement |
| 09-26-2012 | Sandra Masin endorsed by Minnesota Voters for Animal Protection |
| 09-21-2012 | Received endorsement from St. Paul Building and Construction Trades Council |
| 09-19-2012 | Education Forum with Sandy Masin and DFL Representative and Candidates |
| 09-14-2012 | MPR Poligraph Program Reviews Campaign Flyer |
| 09-09-2012 | Fire Muster Parade in Burnville |
| 09-04-2012 | Labor Day |
| 08-17-2012 | Access to Democracy hosts Sandy Masin for an interview! |
| 08-16-2012 | Thank you! |
| 08-14-2012 | Eagan Patch: Primary Results: Masin Defeats Walden in 51A |
| 08-13-2012 | Endorsed by SEIU!!! |
| 08-11-2012 | Dakota County Fair |
| 08-08-2012 | National Night Out |
| 08-02-2012 | DFL Veterans Caucus endorses Masin for the House |
| 07-24-2012 | AFL-CIO now joins in endorsing Sandra Masin |
| 07-22-2012 | Sierra Club endorses Sandra Masin's candidacy for the House |
| 07-16-2012 | Clean Water Action backs Sandy Masin |
| 07-13-2012 | July 2012 proclaimed Hire the Veteran Month |
| 07-10-2012 | The North Central States Regional Council of Carpenters Back Masin |
| 07-04-2012 | Our Volunteers- the HEART of the Campaign |
| 07-04-2012 | Beyond The Yellow Ribbon |
| 06-28-2012 | Planned Parenthood endorses Sandra Masin |
| 06-22-2012 | Masin wins United Transportation Union's endorsement! |
| 06-20-2012 | AFSCME Council 5 Endorses Sandra Masin's Candidacy! |
| 06-17-2012 | Father's Day |
| 06-16-2012 | Minnesota Police and Peace Officers endorse Sandra Masin |
| 06-11-2012 | Sandy Masin Endorsed by Minnesota Nurses Association |
| 06-05-2012 | Sandra Masin Honored at womenwinning Annual Event |
| 06-04-2012 | Stand For Justice event in Mendota Heights - outstanding! |
| 06-01-2012 | Education Minnesota Endorsement |
| 05-19-2012 | Masin Endorsed by TEAM-MAPE! |
| 03-27-2012 | Video from SD51 Convention |
| 03-24-2012 | Step #1 to Victory in November 2012 |
| 02-23-2012 | NEW House District Number! |
| 02-08-2012 | 2012 Precinct Caucus in SD38 |
| 02-04-2012 | IMPORTANT: Precinct Caucus is on TUESDAY FEBRUARY 7, 2012 |
| 01-13-2012 | Interview with Alan Miller on Access To Democracy |
| 01-08-2012 | Protecting Dignity, Ending Slavery |
| 12-28-2011 | New Year 2012 Message |
| 11-23-2011 | A Time For Thanks |
| 10-25-2011 | The Path to Win This Election - Where you come in! |
| 10-03-2011 | Masin runs to regain seat |
| 09-08-2011 | The Good Ole Days |
| 09-04-2011 | Labor Day |
| 07-24-2011 | Interview on Access To Democracy |
| 06-22-2011 | Town Hall Meeting in Burnsville June 15, 2011 |
| 04-04-2011 | Secretary of State announcing Opening in State Government Agencies |
| 11-03-2010 | THANK YOU! |
| 10-23-2010 | Disaster Relief Bill information |
| 10-20-2010 | Eagan's Tribute and Memorial Plaza dedication ceremony October 14, 2010 |
| 09-26-2010 | Absentee Ballot Available for November 2 2010 Election |
| 07-14-2010 | Property Tax Refunds and Lifeline and Link-Up programs. |
| 07-02-2010 | Several Topics |
| 04-28-2010 | Reminder: Townhall Meeting April 29, 2010 |
| 04-27-2010 | Pioneer Press article |
| 03-31-2010 | Mid-term Report from the Legislative Session |
| 03-24-2010 | Report from the Session |
| 03-05-2010 | Dorothy Day Center visit |
| 03-03-2010 | General Assistance Medical Care (GMAC) Restored! |
| 02-16-2010 | Impressions from the nearly 2-week old Legislative Session 2010 |
| 01-31-2010 | Reminder: Precinct Caucus 2010 is on February 2! |
| 01-27-2010 | Please provide your feedback to me ahead of the upcoming difficult Legislative Session starting Feb. 4, 2010 |
| 01-20-2010 | Roundtable discussion with Rep. Mike Obermueller, January 22, 2010 at Eagan City Hall |
| 12-10-2009 | Article about the trip to Israel |
| 12-01-2009 | Reminder: Townhall Meeting with Rep. Mike Obermueller coming up on Thursday |
| 11-26-2009 | Thanksgiving 2009 message |
| 11-23-2009 | Press Release about a trip to Israel |
| 08-23-2009 | Appointment to Minnesota House Jobs Task Force |
About Sandra Masin
A mother of three grown children, with more than twenty years of engagement in local politics and community events, Sandra is well known to many. If you haven't yet met Sandra, click here to find out more...
learn more